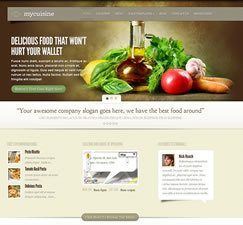 MyCuisine Theme Installation From Elegant Themes
Elegant Themes makes some of the most professional, beautiful and easy to use themes out there. One of their newest themes is MyCuisine, which has features just for food blogs.
A client who has a Cake Decorating site wanted a new look and feel, so we choose the MyCuisine theme. This video shows you the old site, downloading the new theme, exactly what you have to do to install a theme from Elegant Themes, and how to tweak it to get it just right.
Theme Installation, Step by Step
Follow along with this theme installation video to install any of the Elegant Themes (not just MyCuisine) on your WordPress blog. We even address some advanced topics like using Firebug to find and check CSS settings to make our theme exactly what we want.
Click on the video once it starts to enlarge and watch full screen
Related WordPress Theme Videos