Books written by Cenay Nailor and passed *out in the wild*. If these help you, please consider recommending them to your friends, business partners, next door neighbor or whoever else you think would benefit. Thanks!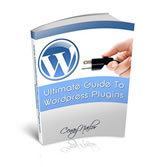 Ultimate Guide To WordPress Plugins
A plugin guide that discusses more than 80+ plugins... when to use then, why use them and strategies to help make promoting your blog a breeze. Also covered are techniques to test new plugins, the importance of the visitor experience and a brief guide to successful blogging strategies.