SEO is a broad topic and as technology and search engine algorithms change, it's becoming an increasingly larger field.
SEO is short for Search Engine Optimization and, according to Dictionary.com, SEO is "the process of adjusting the content, structure, etc, of a website so that it will be displayed prominently by a search engine."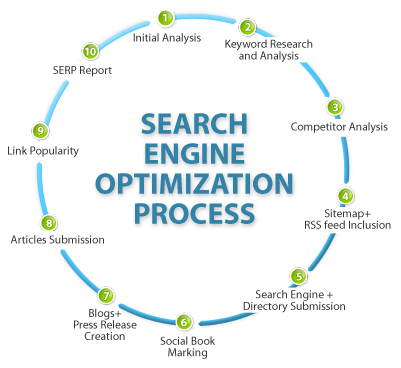 In other words, SEO is the art of aligning a website's attributes to the algorithms of the search engines. Simply put: we make your website's presence known to the engines as the most sensible and logical choice to the search query a visitor to Google typed in.
We do this by reorganizing your site's HTML, meta tags, internal coding elements and content.
Once we've completed the Optimization of the coding, we make your site win the search engines' popularity contests by building inbound links throrgh articles, blogs, blog comments, and forum postings about your company's attributes.
This does two things:
Lets the search engines know that you are the most authoritative site on the web for the keyword phrase and therefore you should be ranked very high on the SERPs (search engine results pages)
Puts links all over the web in strategic places that entice viewers to visit your site, bringing you more eyeballs and visitors.
This is a labor intensive process, requiring a firm hand at the tiller and constant review and adjustments. It requires testing what is working, tracking what isn't and making little tweaks to correct your course.
No company can guarantee you the first page of Google in 4 weeks (they are lying to you if they give you any kind of guarantee), but my experience has shown me with a clear cut set of keywords to optimize for, we can get many of your pages on the first 3 pages of Google within 3-5 months. Some results will be better, some worse. One thing I will guarantee you, we will be working with you to get you found by your target market.
Now, you don't have to become the Search Engine Optimization specialist. You can hire one.
SEO : Search Engine Optimization Services Recap
Serviced related to getting your site found by Google, Bing and Yahoo